As you know, it is not easy to find an ideal Mary Poppins plus size costume from the stores. However, so many plus size cosplayers like to cosplay her. We give some tips for help if you want to have plus size Mary costume.
Making Mary Poppins costume:
To make the Mary Poppins costume, you'll need to start by taking your measurements. Measure around your bust, waist, and hips to determine the size you'll need to make. Once you have your measurements, you'll need to create a pattern for the dress.
To create the pattern, you can either use an existing Mary Poppins costume pattern or create one from scratch. If you're creating a pattern from scratch, you'll need to draw the dress shape onto paper and cut it out. Make sure to add seam allowances to your pattern pieces.
Next, cut your fabric pieces according to your pattern. Pin and sew the dress pieces together, starting with the bodice and then attaching the skirt. Add the sleeves, collar, and any other details such as buttons or lace.
When the Mary costume is complete, try it on to make sure it fits well. If any adjustments need to be made, make them at this time.
There are some great Mary Poppins patterns for reference.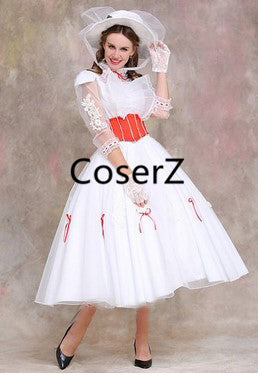 Making Mary Poppins Hat:
To make the hat, you'll need a wide-brimmed straw hat, black ribbon, and a hot glue gun. Begin by tying the black ribbon around the base of the hat, making sure it is tied in a bow at the back of the hat.
Next, fold the brim of the hat up on one side and secure it in place with hot glue. Repeat this process on the opposite side of the hat, creating a small dip in the brim. This will give the hat its signature shape.
When the glue has dried, try on the hat to make sure it fits comfortably.
Making Mary Poppins Umbrella:
To make the umbrella, you'll need a black umbrella with a curved handle and some white fabric paint. Begin by painting small white dots onto the canopy of the umbrella, spacing them evenly apart. You can use a stencil or freehand the dots.
When the paint has dried, you can add any additional details to the handle of the umbrella, such as a black ribbon or a small charm.